New rumors about the iPad 3 Smart Cover and iPhone 5 case
14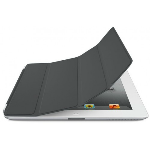 A couple of new rumors have come from iLounge and look to shed some light on both the upcoming iPad 3 release as well as a possibility for the iPhone 5 release that is expected in the fall. The first rumor seems far easier to believe, and that has to do with the iPad 3, or more specifically a redesign to the Smart Cover for the iPad 3.
The idea is that the Smart Cover for the iPad 3 will see additional protection to the back of the iPad. The Smart Cover for the iPad 2 was really just a cover for the screen of the iPad, and had no protection for the back. The new Smart Cover is said to be similar (at least in idea) to the Magazine Jacket by Incase, although we feel fairly confident in saying that Apple's version won't include an elastic strap, and will likely be held on with magnets once again. No word on if the case would also work with the iPad 2, but that seems unlikely.
iLounge is also reporting that despite fairly constant rumors that the iPhone 5 would be a return to aluminum for Apple, and have a design reminiscent of the MacBook or iPad tapered edges, Apple may be continuing to use glass and ceramics for the iPhone case. The idea is that it is possible that Apple will go with
Corning's Gorilla Glass 2
for the iPhone 5, but at this point it sounds like it is nothing more than some testing from Apple. Under Steve Jobs, Apple tended to build multiple prototypes with a number of different designs before choosing the winner, so that tradition may be continuing. That means it is very likely that Apple has prototypes for the iPhone 5 that are glass and some that are aluminum, but it's unlikely that a final decision has been made as to which it will be.