Samsung's tablets received the biggest jolt from the holidays according to new data
12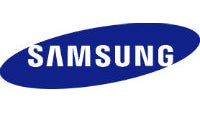 Online publishing company Onswipe took a look at which tablets visitors to its Onswipe optimized sites were using from December 26th through the 29th, and then compared this with similar data collected from December 19th through the 22nd. The goal was to see which tablet manufacturer had the biggest improvement in sales thanks to purchases made by Santa. Before we look at the numbers, keep in mind that these are percentage changes which reward those tablet producers starting from a lower base.
Based on the above, Samsung had a Merry Christmas as its Samsung Galaxy slates showed growth of 50.4% between the two periods. The
Nexus 7
was next, with that tablet appearing 33.8% more after Christmas. That was off from last year's 56.8% bump that the tablet received for the holiday. Coming in third was the Apple iPad, showing 20.8% growth from Christmas. That figure was off from the 27.7% jump that Apple's tablets received from Christmas last year.
The Amazon Kindle Fire rounded out the top five with a 19.5% pop from Christmas. But this was down sharply from the 74.6% increase that Amazon picked up from the holiday last year, proving that low cost Android slabs are beginning to eat away at the Kindle Fire and its forked version of the OS.
Meanwhile, Onswipe Chief Marketing Officer Jason Baptiste also had some other interesting stats. The average session time on a Samsung tablet was 3 minutes and 9 seconds after the holiday, down from 3 minutes and 22 seconds before Christmas. The numbers for the iPad were 4:12 before and 4:03 after. The longest time belonged to the Kindle Fire at 4:51. Why would session times drop after the holidays? Easy. There are plenty of new gadgets and gizmos to play with, distractions from family and friends (perhaps the tablet is the actual distraction, not the humans), and the tablet-based shopping done before Christmas is obviously not necessary afterward.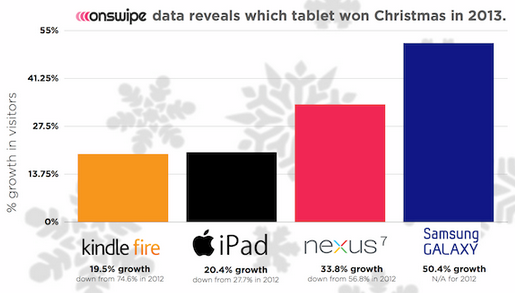 Sales to gift buyers helped Samsung the most over Christmas
source:
Onswipe
via
TechCrunch