Samsung's Gear S Strap will put Swarovski crystals on your wrist (if you have the money for it)
20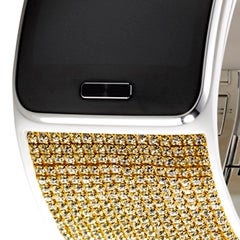 Samsung and Swarovski today announced the Gear S Strap - an exclusive, fashionable wrist strap that's made for the curved, water-resistant
Gear S smartwatch
(officially introduced last week).
The Gear S Strap uses a brand new Swarovski product that the company is calling "Crystal Fine Mesh." This integrates Swarovski crystals directly into the strap's mesh (which, by the way, is made out of metal). The Gear S Strap will be available to buy starting October, for a price that hasn't been unveiled - just don't expect it to be cheap.
Samsung says that
its Swarovski collection
will soon expand with fancy back covers for its "next flagship device" - we're pretty sure the company is talking about the
Galaxy Note 4
, which will be announced tomorrow.
Running Tizen OS, the
Samsung Gear
S sports a curved 2-inch Super AMOLED display with 360 x 480 pixels, further featuring: the ability to make phone calls (thanks to the fact that the watch supports SIM cards), turn-by-turn pedestrian navigation powered by Nokia's HERE, Wi-Fi, Bluetooth, dual-core 1 GHz processor, 512 MB of RAM, 4 GB of internal memory, and a 300 mAh battery.
You can see the Swarovski-clad Gear S Strap below, alongside a collection of images showing regular versions of Samsung's new smartwatch.
source:
Samsung