Samsung Galaxy S5 and Gear Fit now have their own Swarovski crystal accessories
11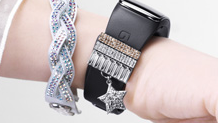 Back in April, Samsung teased
a Crystal Collection
for its new
Galaxy S5
, and now the company made it official. Dubbed "Swarovski for Samsung", the collection includes not just crystal-encrusted covers for the S5 smartphone, but also what Samsung is calling "Charm Sliders" for its
Gear Fit
wearable.
The Galaxy S5 covers come in two nuances (Vibrant Blue and Mystic Black), being made with "Crystal Fine Rocks that are completely integrated into the back cover." As for the Gear Fit charms, these have various styles, shapes and colors (you can see most of them in the slideshow below).
"Collaborating with Swarovski on this stunning collection of device accessories reflects our commitment to providing people with user-experiences that express their distinct personalities and tastes," said Younghee Lee, Executive VP of Global Marketing, IT & Mobile Division at Samsung.
The "Swarovski for Samsung" collection is available to buy online in South Korea as of now. Chinese customers can also pre-order the accessories today, while customers in the UK should be able to get them in the near future. According to Samsung, "availability will extend to offline stores" after May 22, although it's not clear if this means that the collection's going to be released in other markets. Pricing details haven't been revealed. So, uhm, is anyone interested in what Samsung and Swarovski are offering?