Samsung updates the Gear Fit with portrait mode
15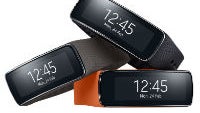 When we first got a look at the
Samsung Gear Fit
, even before getting a chance to physically handle one, we noted that it seemed to be a mistake that the UI of the device was stuck in landscape mode. Apparently, someone at Samsung was listening because the Fit has gotten an update to fix that issue and add a portrait mode UI.
The original trouble was simple: anything worn on the wrist is most often viewed when your arm is oriented across your chest in front of you. If landscape mode is the only view option, that means the text would be sideways when your arm is in that position, and would only be oriented properly when your hand is pointed forward and away from your body. So, adding a portrait or vertical display option fixes that issue.
And, it's even better because Samsung has apparently fixed this issue before the device even goes on sale (which is expected to happen this Friday, April 11th.) The change was verified on a display unit in an official Samsung store in South Korea.