Samsung Gear Fit brings a curved display to a health-tracking band
18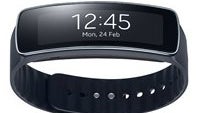 The Samsung Unpacked event in Barcelona has just gotten started, but we're already getting word about a brand new device that we didn't know about before. We knew that the Samsung Galaxy S5 was going to be announced (and we've gotten our
hands on
it), and we saw the new
Gear 2 and Gear Neo
smartwatches running Tizen, but Samsung also has a new health tracking wearable to announce: the Gear Fit.
The big marketing point of the Gear Fit is the curved Super AMOLED display, which Samsung says is the first of its kind on a health-tracking wearable. The display is 1.84-inches with a resolution of 432x128. As far as functionality, the Gear Fit is a bit more reserved than your typical Samsung device, but it will offer a pedometer, exercise tracker, heart rate monitor, sleep tracker, stopwatch, and timer for the fitness side of things. But, just in case you want a bit more, the Fit will also bring you notifications of new emails, calls, SMS, and other apps, as well as options to control your media from the band and the same exercise "coach" that you'll find in S Health on the Galaxy S5.
The Gear Fit will offer a bit of customization with swappable bands in Black, Orange and Mocha Grey, and maybe best of all, Samsung is claiming 3-4 days of battery life with "typical usage". The design looks nice overall, but could be a bit awkward given the orientation of the information on the display. Usually, you want information on a wrist wearable to read in line parallel to your arm, but the Gear Fit is oriented perpendicular to your arm.
The Fit will be available globally starting in April, but Samsung hasn't yet announced the price for the device. Samsung announced that the new Gear devices would be compatible with 17 Galaxy devices, but no word on compatibility with devices that don't carry the Galaxy name.