Samsung opens up S Pen SDK to devs
6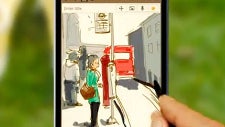 Strong sales of the Samsung Galaxy S II have fueled Samsung's phone division success and as the demand persists the Korean company has
revised its 2011 sales forecast upwards
. Apart from the Galaxy S II, the company is also basing its more optimistic estimate on expectations for sales of 2 million units of the
Samsung Galaxy Note
, the 5.3-inch powerhouse which sits between a phone and a tablet.
Now, it's definitely not a device for the mass user, but creatives (and we don't mean baristas) can make great use of the added space. And now, Samsung has released the
SDK for its S Pen
stylus for the Galaxy Note. This opens the door for Android developers to add support for the S Pen in their applications. The SDK weighs 2.43MB and comes with four major features:
- CanvasView : basic background for drawing,
- Pen Setting Popup : a pop-up panel for adjusting the width, opacity and line color,
- Eraser Setting Popup : Panel for adjusting width for eraser,
- Undo/Redo : Enable undo/redo previous draw.
Hit the source link below to explore the additional layer of functionality you can add to apps via the S Pen SDK.