Samsung details ICS update path for US carriers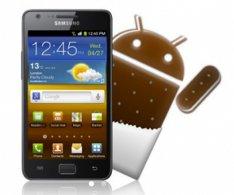 The migration to
Ice Cream Sandwich
, the latest of Google's Android platform, has been a long one. ICS was announced back in November, and for nearly six months carriers and phone makers have been working on delivering the update.
Now, it's arrived on some devices and Samsung has officially confirmed the update path for the rest of the devices available on US carriers.
Up until now, Samsung has confirmed that the following devices will get ICS. We've broken them down by carrier and listed the model number for absolute clarity:
on AT&T:
Galaxy S2 (SGH-i777),
Galaxy S2 Skyrocket (SGH-i727),
Galaxy Note (SGH-i717),
Captivate Glide (SGH-i927),
Nexus S (SGH-i9020A)
Galaxy Tab 8.9 (SGH-i957).
on Sprint:
Nexus S 4G (SPH-d720) is already available
Epic 4G Touch (SPH-d710)
on Verizon:
Galaxy Tab 10.1 (SCH-i905)
Galaxy Tab 7.7 (SCH-i815)
Galaxy Tab 7.0 Plus Wi-Fi (P6210),
Galaxy Tab 8.9 Wi-Fi (P7310),
Galaxy Tab 10.1 Wi-Fi (P7510).
"We are in close communication with T-Mobile to ensure that eligible devices are upgraded to Android 4.0 Ice Cream Sandwich in the coming months and will provide updates as we have additional details to share."
So there you have it - the full list of Samsung devices about to get ICS. You can hit the source link below to voice your (dis)satisfaction with Samsung's plans, but in the meantime you'd still need to wait for a couple of more days until you get the updates.