Samsung Galaxy mini 2 leaks out: bigger screen, better resolution, faster processor
13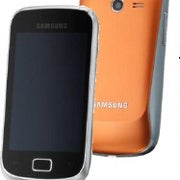 The
Samsung Galaxy mini 2 S6500
, codenamed Jena, has leaked out just ahead of MWC and if we take the tipped February date as a clue, it should arrive just in time for the biggest phone-centric show this year. The Galaxy mini 2 is almost at the bottom of the Android low-end offers, still just above the cheapest Samsung Galaxy Y.
It won't shock you with specs, of course, but it will most definitely do so with its price.
Now, it does feature some pretty decent hardware for smartphone entrants on budget. Here are the highlights of the Galaxy mini 2: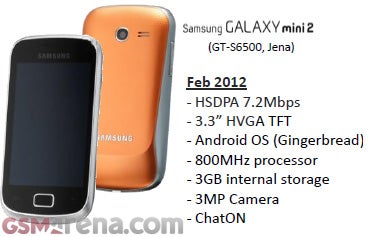 - 3.3-inch display with an HVGA resolution (480x320),
- Android Gingerbread,
- 800MHz processor,
- HSDPA 7.2Mbps,
- 3-megapixel camera,
- 3GB of internal storage,
- Samsung's free messaging service ChatON.
Now, that's actually a decent upgrade over the first-generation Galaxy mini which came with a smaller 3.14-inch display with a resolution of only 320x240 pixels, a slower, 600MHz processor, and only 160MB of internal memory. The free messaging with ChatON is also a welcome addition to help you save even more.
Designwise, the compact Galaxy mini 2 looks nicely curved with a slick body, though lacking the patterned back of the first Galaxy mini. Nonetheless, it's a great upgrade, and we're looking forward to an actual release date and a price. How do you like the Galaxy mini 2?