Samsung Galaxy S6 and Galaxy S6 edge: 36 tips & tricks
16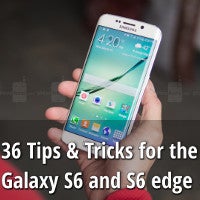 If you've been eyeing the Samsung Galaxy S6 or Galaxy S6
edge
ever since they were announced, and are now seriously considering if a little less food on the table, but a new gadget in the pocket, is a worthy trade-off, you may wish to bookmark this. We've spent an inordinate amount of time with Samsung's two new flagships, both hands-on at MWC 2015, and more recently when we had the opportunity to review it. But we didn't stop there, of course, and are still actively using and learning about them. As it turns out, like most Galaxy S high-ends, the S6 and S6 edge have quite a few tricks up their sleeves.
We dug deep within the refreshed, Android 5.0 Lollipop-based TouchWiz software and the various supporting manuals before arriving at several dozens of useful tips and tricks you can make use of once you get your hands on either of the two devices. The vast majority of these are applicable to both devices, though the Galaxy S6 edge offers a few more extras, courtesy of its unique display.
Curious already? Jump right in.