Samsung Galaxy S5 size comparison: the next big thing, literally 'big'
42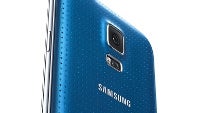 Samsung's next big thing, the Samsung Galaxy S5 is already here, and it's literally 'big'. Well, at least in comparison with the slightly smaller Galaxy S4. The Galaxy S5 features a larger, 5.1" display and that's the main reason, but while we're talking about a very small increase in screen size, the physical size of the device seems to have grown more noticeably.
You can spot the difference best in comparison, and that's why we suggest you take a look right below where we compare Samsung's brand new 'big thing' against its most popular rivals.
Smartphones are indeed growing larger every year and it doesn't take a genius to notice this, and the Galaxy S5 is a good example. It's actually grown closer to devices like the Xperia Z series, which in turn are dangerously close to phablets.
Take a look below to see how the Galaxy S5 looks when put alongside the Galaxy S4, Note 3, iPhone 5s, LG G2 and all its popular rivals.