Samsung Galaxy Note shipments hit 5 million
18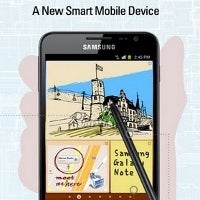 More and more factual evidence suggests that the
Samsung Galaxy Note
is doing more than well with the latest statistics showing the gigantic device hitting the
amazing 5 million shipments
. That's tremendous success for what's seen by many as a rather niche device.
The Galaxy Note has been available globally for a mere five months. It launched in October, and stateside it arrived much later, but it seems that the US launch gave it a big push.
Back in the beginning of the month, Samsung reported 2 million Notes sold, and now shipments are said to be 5 million.
To better help its sales, Samsung is launching an LTE version of the
Galaxy Note in Japan next month
, available on local carrier NTT DoCoMo.
The Samsung Galaxy Note with its humongous
5.3
-inch display is a high-end device that won't suite everyone. It comes with a built in stylus and the big display all point to creative artists as its main audience. And it was plain and clear that Samsung took a risk by introducing such a weird device, a
"phablet,"
somewhere between a phone and a tablet, an uncontested territory in the mobile market.