Samsung Galaxy Note dresses in white for the Holidays, currently released only in Korea
9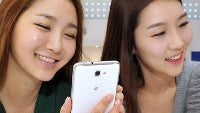 The
Samsung Galaxy Note
is the 5.3-inch giant monster phone equipped with its own S Pen for scribbling your ideas and it's black. Some will love for its size, others will find it too big, but few will complain about it getting a
white version
and that's exactly what Samsung has released in its home market of South Korea. The Galaxy Note in Korea also boasts LTE connectivity.
Interestingly, it seems that it's becoming a habit for Samsung to release its high-end devices in white not immediately, but when some time passes after their launch. The white Galaxy Note is the exact same handset except for the color, and we're still wondering - couldn't the company out the pale handset immediately? It's not yet clear whether markets outside of South Korea will get it, but chances are they will.
The Samsung Galaxy Note has already passed FCC certification and rumors point out that the device could land on
AT&T
stateside. How do you like this fresh new white look of the handset?