Deal: Save $450 on Verizon's Samsung Galaxy Note 8
2
As of earlier this month, Verizon Wireless allows customers to
save $300 on the Samsung Galaxy Note 8
, with no trade-in required. What you may not know is that you can save even more on Verizon's Note 8 if you're purchasing the phone from Best Buy.
In addition to Verizon's $300 off promotion, Best Buy offers a $150 instant discount on the
Galaxy Note 8
. However, this is available only on monthly payments for 24 months, with savings reflected in reduced monthly costs: instead of $39 per month, you're paying just $20.25.
After 24 months, you'll save a total of $450 on Verizon's Note 8, paying only $486 for it. If you want to buy the handset outright, you can only get it at the full price of $949.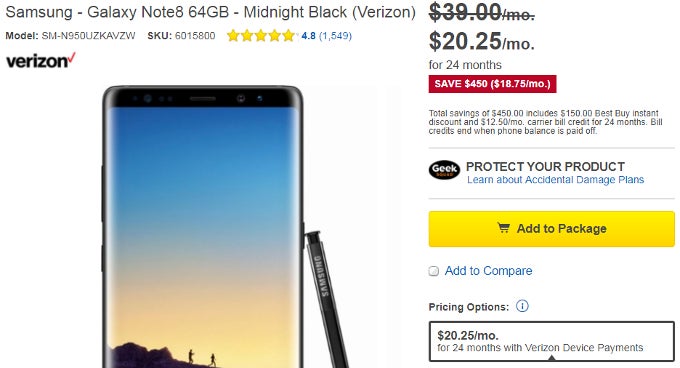 Best Buy doesn't say when this deal expires, but we imagine it won't be available for too long, as $450 off a high-end phone like the Galaxy Note 8 is not something you see every day. If you're interested in the deal, you can find it at Best Buy via the source link below.