Apple iPhone X vs Samsung Galaxy Note 8
99+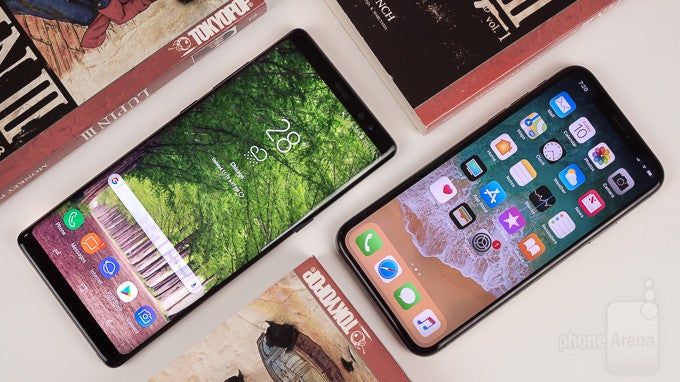 Today, smartphones are more accessible than they've ever been before. For $100 or less, you can take home a brand-new handset that's more than ready to get you online, connect you with all your favorite social media, and even snap some decent-looking photos.
While those entry-level options are great for users on tight budgets, there's no shortage of more expensive models for shoppers able to spend a little more, offering increasingly feature-rich packages with bigger, high-res screens, advanced imaging systems, smoother performance, and eye-catching designs.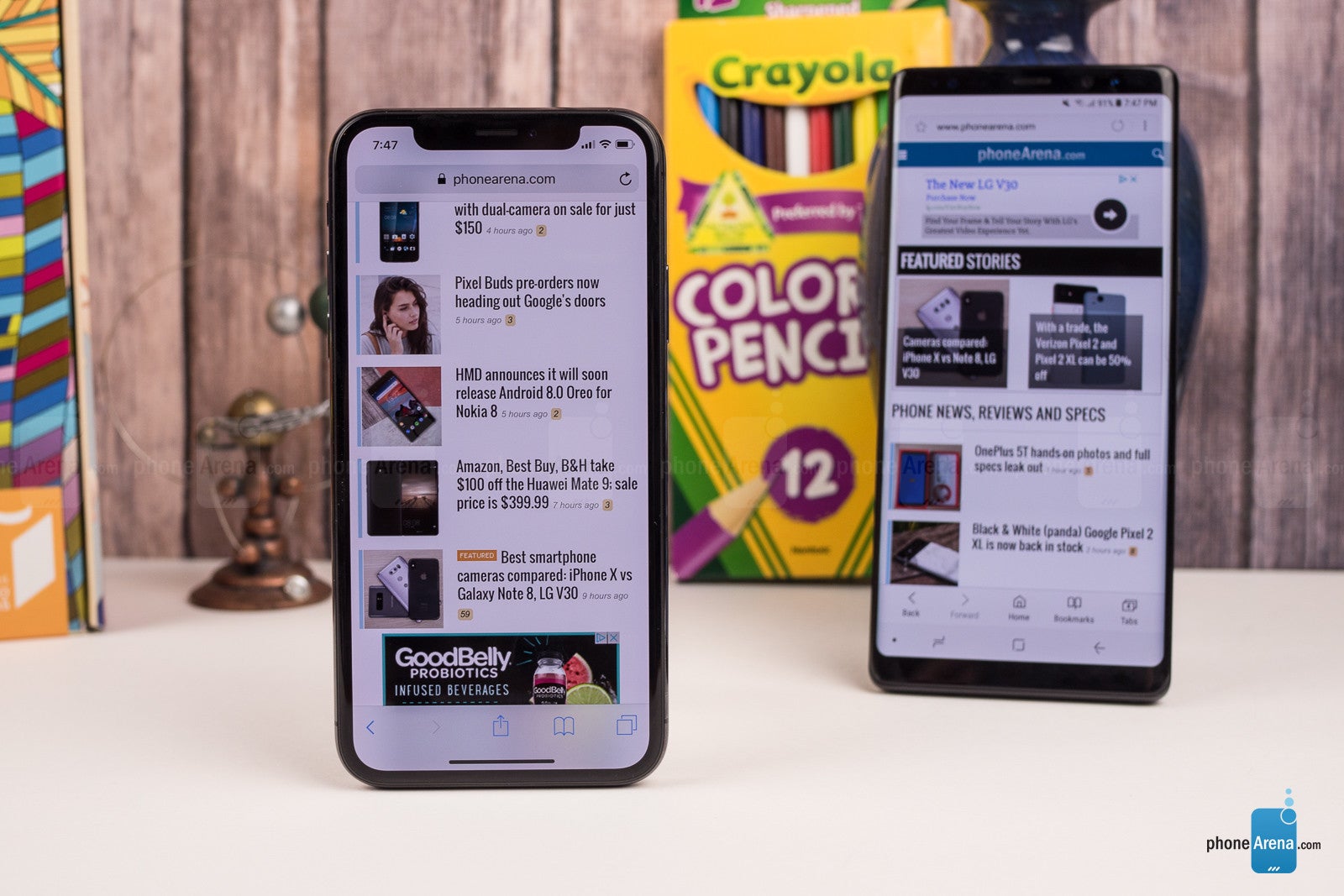 At the very far end of the spectrum, we've seen the availability of insanely expensive "boutique" phones for years now, and while they've offered extravagance through the use of premium materials like leather, gold, and even gemstones, more often than not all that fanciness was just skin deep, and the phones themselves were a bit rubbish.
But this year, we're finally seeing high-end mass-market smartphones start to push up against – and even over – the $1,000 mark. While not as ostentatiously showy as the blinged-out luxury models of years past, these new super-phones are nonetheless solidly outfitted, bringing their users some of the most cutting-edge mobile tech available.
When you're spending this much on a phone, you're understandably going to expect that every corner of the experience is going to be no more than a stone's throw away from perfection, but even at this lofty level, we still find pluses and minuses that can make one handset seem slightly more appealing than its competition.
Today we're breaking down what you can expect from the two most high-profile, super-expensive smartphones around: this summer's
Samsung Galaxy Note 8
, and the just-released
Apple iPhone X
.
Design
Even as phones become practically all screen, the impact of a well-executed design isn't lost on us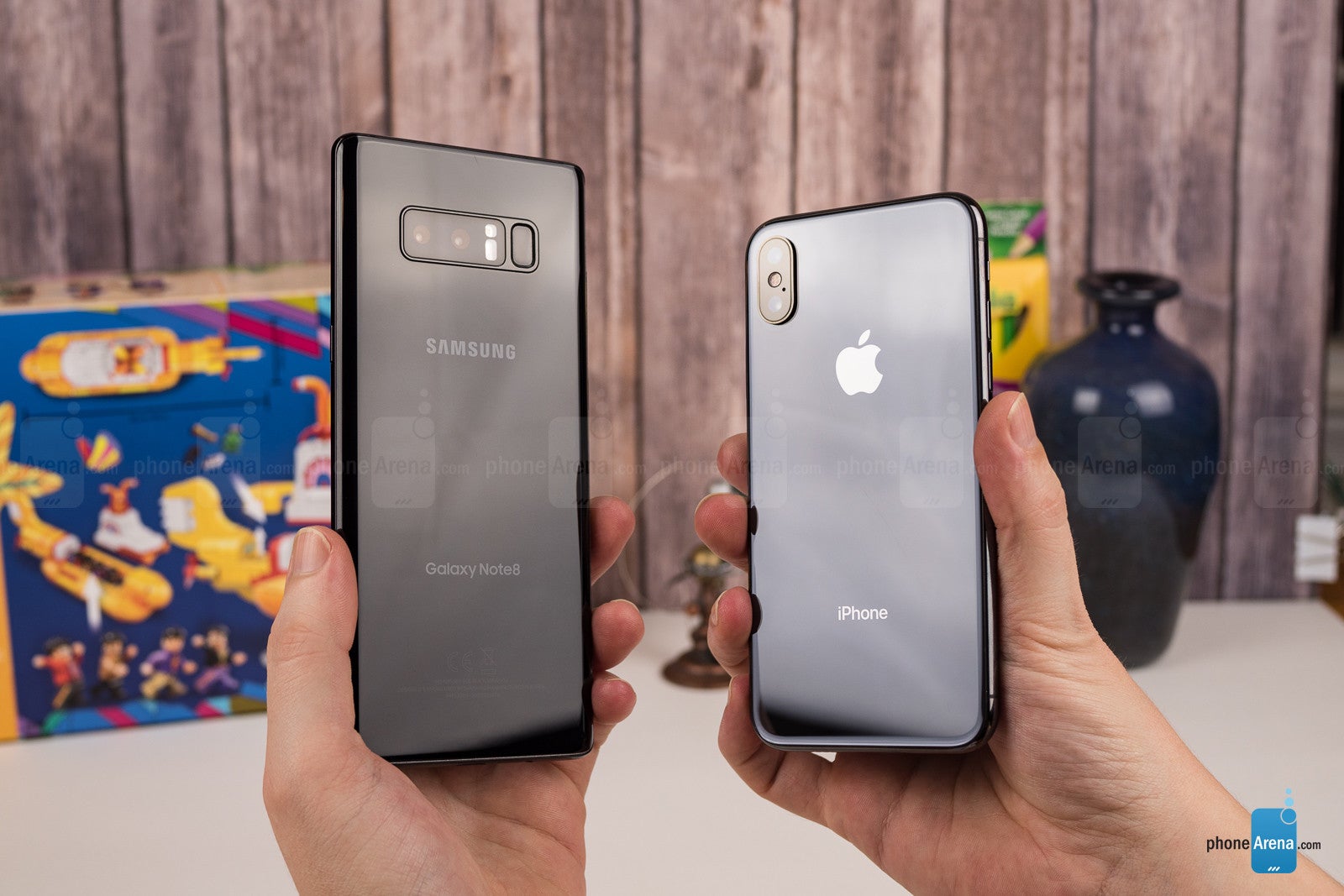 As we've remarked before, 2017 is destined to go down in smartphone history as the year when the look of smartphones changed dramatically, all thanks to the availability of extra-wide screens that push bezels to their thinnest yet, and deliver phones whose faces are nearly all display. This trend's been kicking around since the early-year flagship pair of the LG G6 and Samsung Galaxy S8, but we're already seeing refinements for this second wave of models, of which both the Note 8 and iPhone X are members.
Of the two, the Note 8 is easily the larger phone: taller, wider, thicker and heavier than the iPhone X. And at least in terms of physical makeup, Apple's phone has more in common with the GS8 than its phablet-sized cousin. That has the potential to cause some frustration, especially when it comes to pricing, as while the Note 8 is up there with the iPhone X in this ultra-premium space, the GS8 can be had for just 75 percent of the iPhone's price.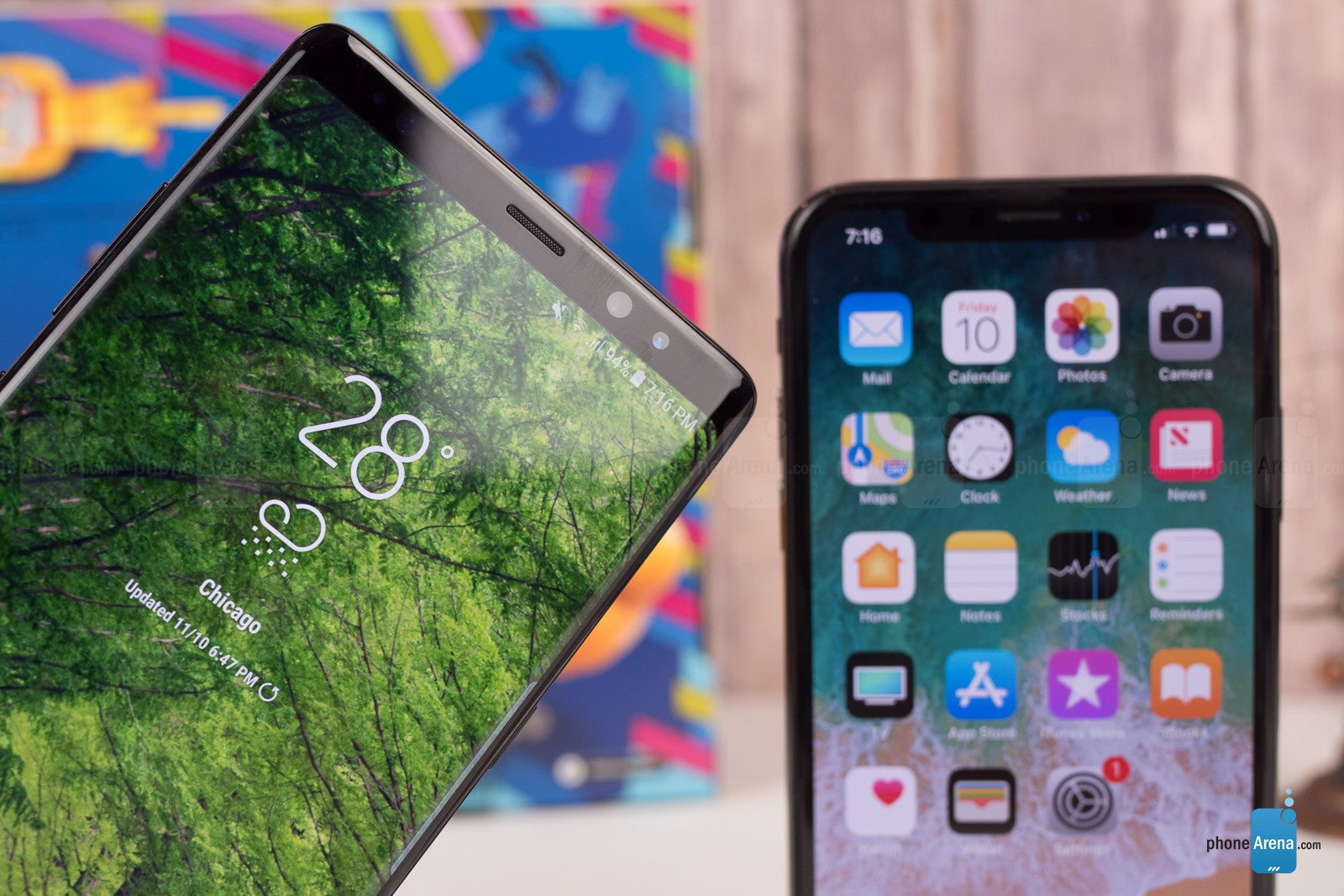 But continuing to focus on design, it's impossible to ignore the Note 8's sheer height. While the extra-wide screen shape of both phones helps keep left-to-right access within an easy stretch of your thumb, the Note 8 demands a bit more juggling to get to its top edge – and when that's a requirement for accessing your quick settings and notifications, the phone's size starts to become a bit of a liability.
On the bottom of both phones, you'll find speakers as well as charging/data ports, but the Note 8 one-ups the iPhone X by also throwing in an analog headphone jack. Somehow, Samsung also finds room for the phone's S Pen stylus down there, too. On the right side of each handset we have the power/sleep button, which has grown in size on the iPhone X for no apparent reason. Volume controls live over on the left, joined by the do-not-disturb switch on the iPhone, and the dedicated Bixby button on the Note.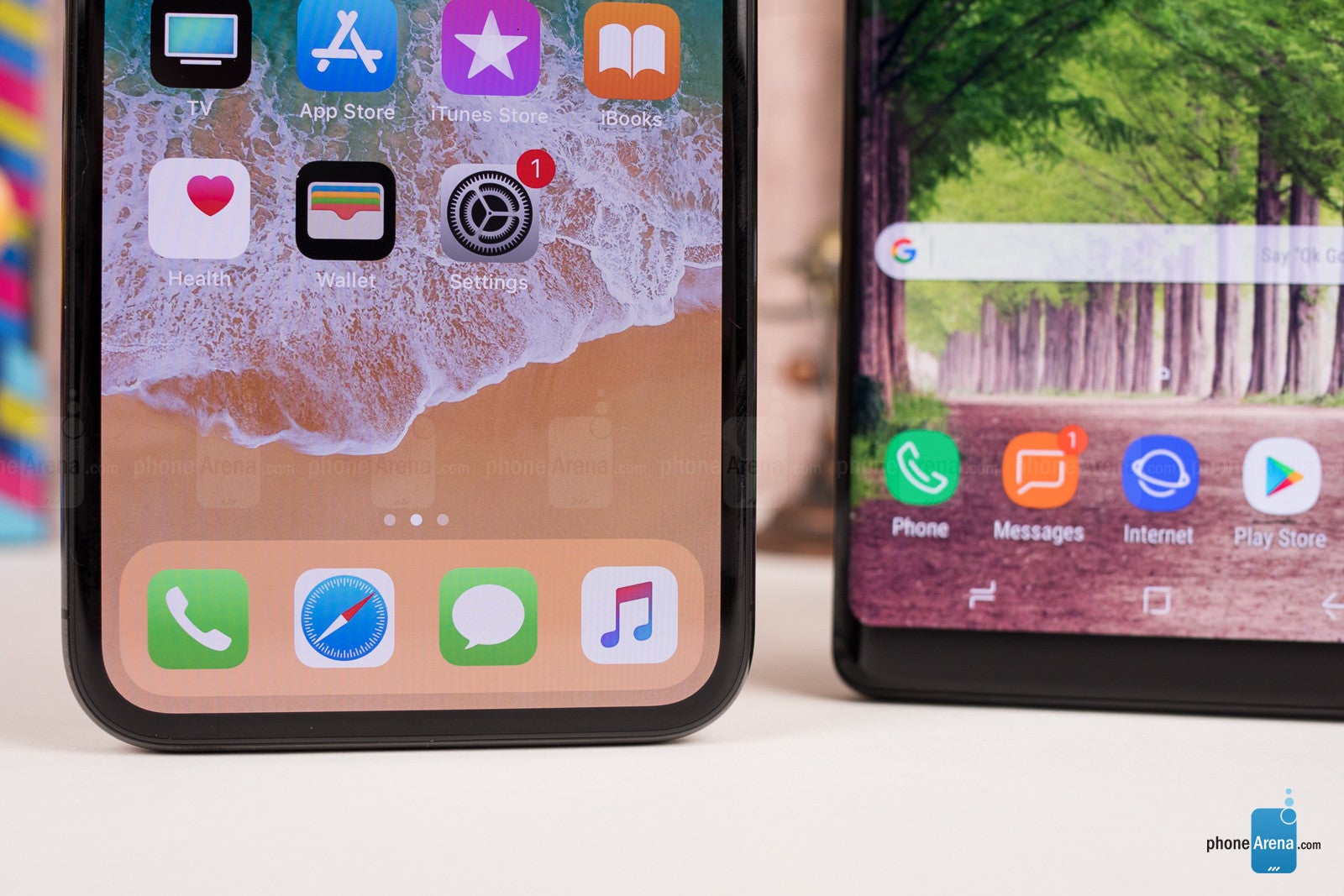 Around back, each of these handsets shows off their dual cameras, but while Samsung's are for all intents and purposes flush-mounted, with only a hint of a border lip separating them from the rest of the Note 8's back, Apple's got a pretty pronounced camera bump on the iPhone X. And while Apple keeps its familiar top-corner camera placement, the X shakes up the side-by-side arrangement of iPhone Plus models in favor of a top-to-bottom layout here.
We also have to talk about what's not here, and both these handsets ditch their familiar hardware home buttons. Samsung got that ball rolling back with the GS8, and the Note 8 offers more of the same, including the repositioning of the handset's fingerprint scanner to live with the camera hardware on the phone's rear. That's not ideal placement, if only due to how high up the scanner lies and what a stretch it can be to reach. While Apple has similarly dropped its home button, there's no effort here to relocate the fingerprint scanner, instead relying solely on the new Face ID scanner for biometric authentication – we'll talk about the user experience that offers in just a bit.
Display
Samsung may be bigger and feature curved edges, but Apple can't be beat for brightness and overall appeal.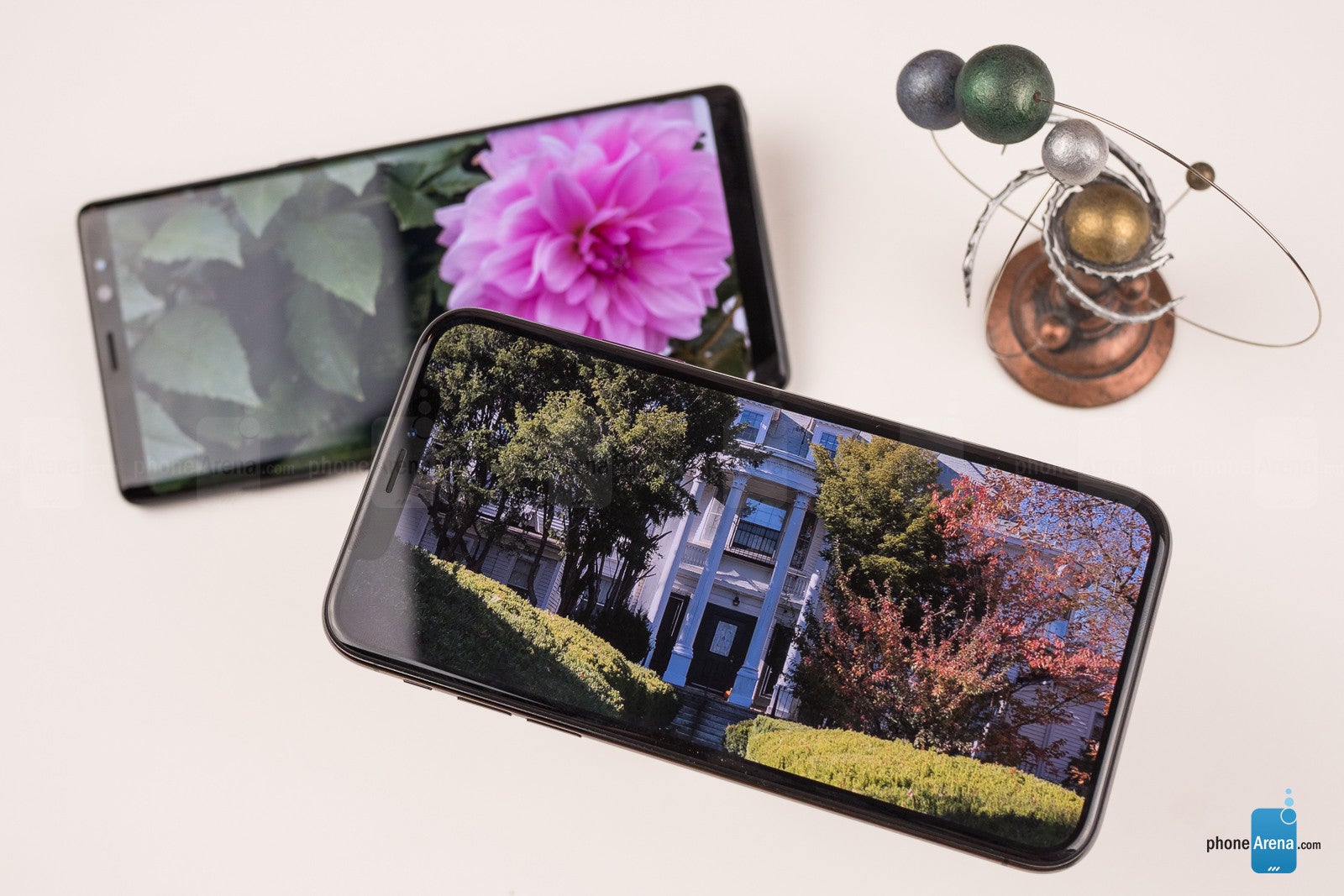 For two screens that sound like they have so much in common, the displays on the Note 8 and iPhone X are a world apart. Let's at least start by laying the similarities out on the table: they're both exceptionally widescreen panels, with an aspect ratio of 18.5:9 for Samsung, and closer to 19.5:9 for Apple.
Both are OLED panels, a first for Apple, and both feature curved corners, a feature that's rapidly become synonymous with super-wide displays.
For two screens that are so off the beaten path, that's a lot that's being shared, but even with these similarities, the two manufacturers have found no shortage of ways to make their screens stand out. Samsung gives the Note 8 a curved-edge screen, bending ever so slightly over the long sides of the phablet's body. While there's still a bit of phone body forming a bezel even with these curved edges, it's much more minor than we see on the iPhone.
Even if that's a win for Samsung, Apple scores much smaller top and bottom bezels – though admittedly thanks to the "cheat" of its screen's top notch, housing the phone's front-facing camera, earpiece, and Face ID hardware. But even with that protrusion, Apple scores a bit of a win in terms of aesthetics by keeping the bezels around its screen remarkably consistent. The effect is subtle but powerful: this doesn't look like a phone with a screen on it, but like a phone that was built around its screen. There are some consequences to this design decision – primarily that the clipped, curved corners are of a much wider radius than on the Note 8, and you lose that much more screen real estate as a result – but it just looks so nice and clean that we doubt many users will get hung up on that.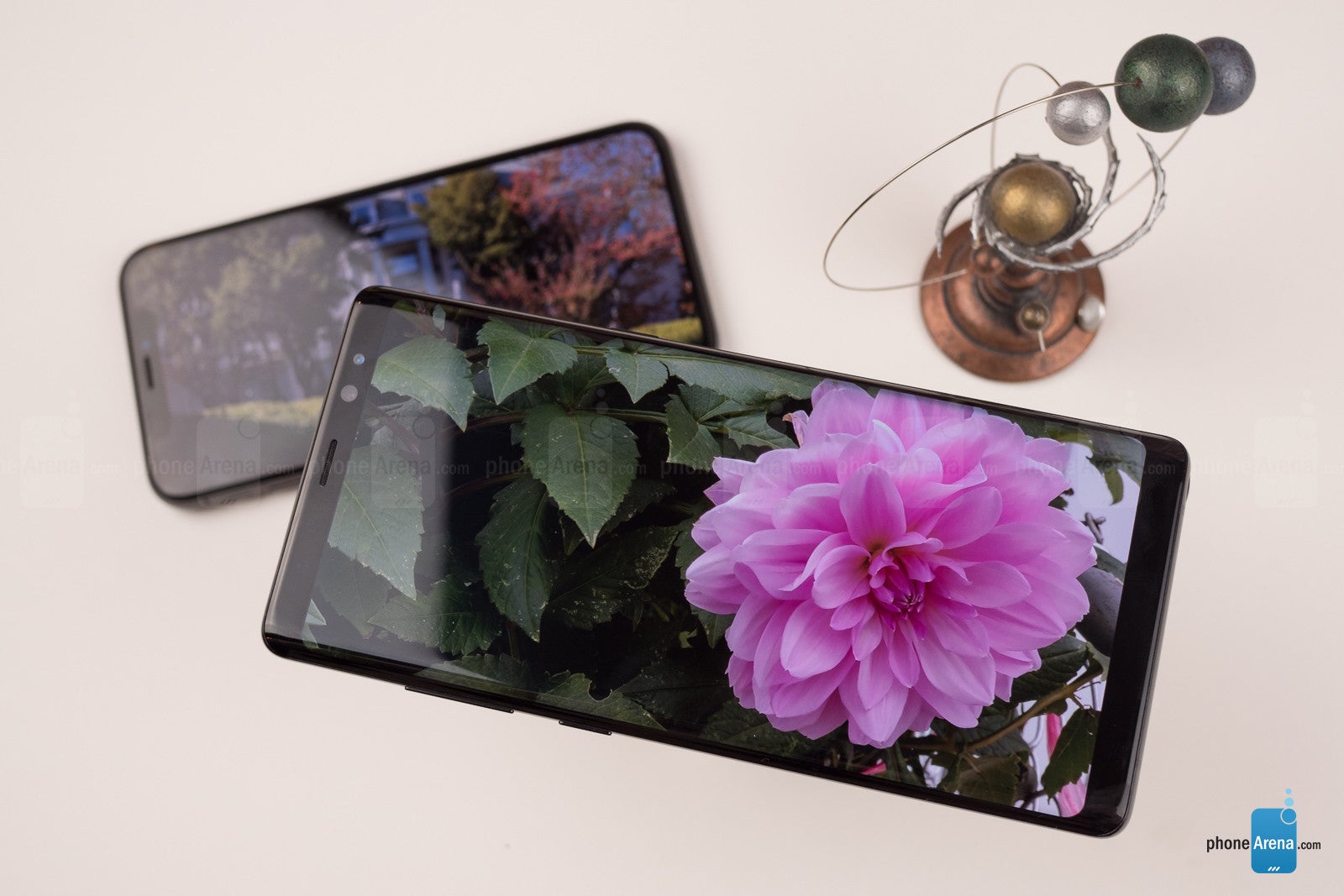 Both of these phones are capable of some largely accurate color output, but Samsung scores some extra points for just how configurable its screen output is, with users able to choose between not just a number of preset color-rendering modes, but also to further tweak color balance to their liking. On the flip side, Apple's True Tone system aims to automate color adjustments – keeping things easy but offering less control.
Apple gets a major win for screen brightness, with the iPhone X's max output significantly brighter than the Note 8's – and that's true to an even further extent when you're keeping brightness under manual control.
Display measurements and quality