Samsung Galaxy Camera 2 available mid-March, $449.99
12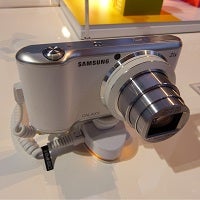 If you saw our hands-on with the new
Samsung Galaxy Camera 2
from CES and thought it had everything you wanted except a release date, your wait is almost over.
Samsung announced the second coming of its Galaxy Camera at CES 2014 and though it is an incremental update of sources, the Galaxy Camera 2 delivers with a high-end, Android OS powered camera.
The primary difference between the Galaxy Camera 2 and its predecessor, is that it is not likely we will see a cellular data capable version of the latest model. This decision was most certainly driven by sales figures since the Wi-Fi only version of the device was already $450 and the mobile connected device was $200 more at one point.
Samsung kept the price the same, and added some features to the camera flagship, notably NFC, a "selfie" alarm, bigger battery, faster processor and Android 4.3. Since it is Android powered, and packing Samsung's TouchWiz interface, the Galaxy Camera 2 is full of features, multiple modes for focus, range, shooting modes, video and a host of other features.
You can pre-order the Galaxy Camera 2 now through Samsung or any number of retailers (Best Buy, Amazon, et al) with a ship date listed as "early March."
via:
GeekBeat