Samsung Galaxy Camera 2 hands-on with photo samples
15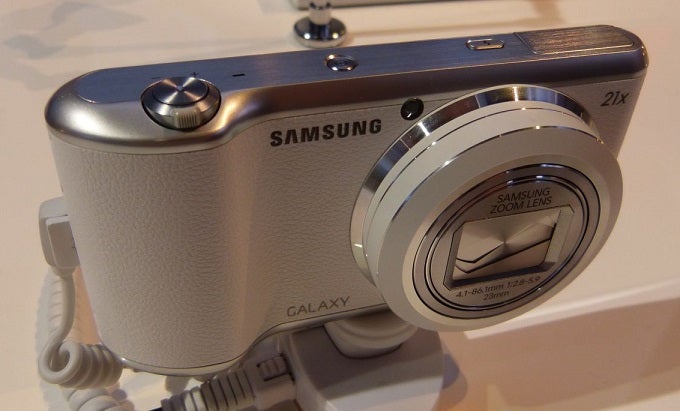 Among the wide array of announcements that Samsung made at its massive press event on Monday, one that almost got a sort of "afterthought" mention was the part where the Korean conglomerate was going to bring forth a successor the Galaxy Camera.
Aptly dubbed the Galaxy Camera 2, Samsung only made subtle changes to its Android powered shooter, but those changes are notable. Samsung added NFC, upped the RAM to 2GB and upgraded the processor. There is also a "selfie alarm" so you can take pictures of yourself all day long.
Design
At first glance, there is nothing really different about the Galaxy Camera 2. It is the same overall shape and slightly larger, but the casing has that faux leather treatment that Samsung put to work on the new Galaxy Note and TabPRO series. It is a little lighter, despite having a larger 2,000mAh battery. The flash assembly has been redesigned a little as well. The Galaxy Camera 2, at least for now, will be a Wi-Fi only device.
Display
The display of the Galaxy Camera 2 is a 4.8-inch Super Clear LCD panel with 720p resolution. That may be considered average for a smartphone, but it is outstanding for a compact camera system.
Interface
The Galaxy Camera 2 is running Android 4.3 and true to Samsung fashion has a healthy dose of TouchWiz user interface delivering the robust feature set that Samsung devices are known for.
Processor and Memory
The Galaxy Camera 2 will come with 8GB of storage, coupled with a quad-core 1.6GHz processor. We could not confirm if this was a new chipset or improved Exynos CPU. Just like TouchWiz and other goodies take over nearly half of the Samsung Galaxy S4's 16GB of storage, much of the native 8GB of storage is put to use, so you will want to grab a microSD card (up to 64GB) right away.
Camera
The Galaxy Camera 2's main event is the camera of course, and aside from a new feature that adds a "selfie alarm," it is largely unchanged. It is a 16.3MP camera with 21x optical zoom, and a 1/2.3" BSI sensor. Video recording capabilities are unchanged as well, recording 1080p at 30fps, 720p at 60fps, and a 120fps mode at 512p resolution.
The lack of cellular data is countered with the addition of NFC which essentially enables a tag-and-go capability which is a nice feature. Since large resolution cameras like this create large size photo files, it makes sense to center connectivity around standards like Bluetooth and Wi-Fi, since data plans would take a beating if you have a lot of pictures to upload.
Pricing was not announced for the Galaxy Camera 2, but it is set to be available in the first quarter of 2014. We took a few pictures with the camera and have them on display in the slide-show below. The images are full resolution, we took a few with and without the flash.
If you were a fan of the original, what does the Galaxy Camera 2 do for you?