Samsung Galaxy (Alpha) A5 and A3 leak in new high-res photos
43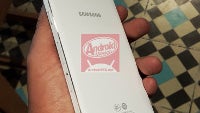 Those of you keeping tabs on Samsung will know by now that the company appears to be in the process of creating a new line of Galaxy devices, ones modeled after the
Galaxy Alpha
. We last came across
live images of the Galaxy A5 (SM-A500F)
a while ago, thanks to a leak courtesy of
SamMobile,
but this time around the snaps come form another source:
Android México.
The new shots also show us yet another supposed member of the new Samsung family: the Galaxy A3. From what we can tell from the shots, the A3 will be smaller (about the size of the 4.7-inch Galaxy Alpha), so perhaps we're looking at a cousin device with a less impressive specs sheet.
Contrary to earlier information, which described the frame of the Galaxy A5 as one that emulates metal, we're now told that the frame is 100% aluminum, though we obviously have no way of knowing which version of the story has it true. In any case, the A5 is said to be a mid-range device with a 5-inch, 720p Super AMOLED screen, a quad-core Qualcomm Snapdragon 410 processor, and a 13-megapixel camera (5MP snapper at the front). RAM sits at 2GB, and there's 16GB of microSD-expandable storage, with a 2300 mAh cell powering this all on the hardware side, while Android 4.4.4 KitKat does its thing on the software one. Thanks to a regulatory listing in China and the US, we also know that the A5 will measure 5.48 x 2.74 x 0.26 inches (139.3 x 69.7 x 6.7 mm), and weigh 4.44 oz (126 grams). We're told to expect a price tag of about $400.
As for the A3, so far we only know that it will supposedly cost between $350 and $400, offer LTE, and have metal in its construction (which lends some credibility that the A5 is not simply metallic, after all). The A3 is expected to premier around the globe by the end of 2014.
Finally, we've also heard rumors of a third new A-device dubbed A7. That one is rumored to sport a 5.5-inch screen and LTE, and cost about $450 to $500. Unfortunately, the A7 will apparently only see the light of day in select countries.
All of the above information, especially if you take pricing and screen sizes into account, has all the markings of a Samsung line -- a variety of sizes littered throughout the mid-range price spectrum. Based on what we know already, do you think you would be interested in picking one?
Recommended Stories