Samsung Galaxy Ace Plus officially unveiled: 3.65-inch display, 1GHz processor
14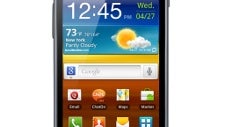 The
Samsung Galaxy Ace Plus
, the successor to Samsung's heaviest mid-range gun, the Samsung Galaxy Ace, has arrived with a slightly larger, 3.65-inch display and a more capable, 1GHz processor. Sadly, you'll have to make do with the horrifying HVGA resolution (320x480 pixels), which will look even worse on the larger display. The new Galaxy Ace Plus will also remain in Gingerbread territory, with no word on when and whether it will get updated to Android 4.0 Ice Cream Sandwich.
We shouldn't forget though that the Samsung Galaxy Ace Plus takes pride more in its
relatively affordable price
rather than state of the art hardware. The original Ace never arrived subsidized on a US carrier, but nonetheless was one of Samsung's most popular models in the past year and it's interesting to see whether the Koreans will negotiate a carrier deal for the new Ace Plus. Under current plans, the phone will launch this month in Europe, Russia, Latin America, Asia, Africa and China.
Designwise
, the handset is a bit more rounded than the original boxy Ace. The Ace Plus seems to borrow from the looks of the budget Samsung Galaxy Y, and is now less like the iPhone. It's also a hair thinner than its predecessor at 0.44 inches (11.2mm), but slightly heavier, tipping the scales at 4.06 ounces (115g).
The rest of its highlights include:
- 1GHz processor with 512MB of RAM,
- 3GB of internal memory, microSD card slot,
- 3G speeds at up to 7.2Mbps on the downlink,
- 5-megapixel auto-focus camera with LED flash capable of recording 480p videos at 30fps,
- 1300mAh battery,
- Samsung TouchWiz on top of Gingerbread,
- Wi-Fi b/g/n, A-GPS, Bluetooth 3.0, USB 2.0.
The Galaxy Ace Plus looks like a decent update for those waiting for some more horsepower in Samsung's mid-range offers. The low resolution and lack of ICS however are the two bitter pills you'd have to swallow with the Samsung Galaxy Ace Plus. Are you willing to?