Samsung Galaxy A50 & A30 debut with Infinity-U displays, ultra-wide cameras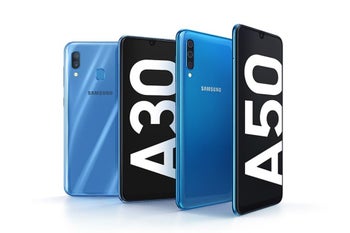 Samsung's biggest phone-related announcements were made last week at Unpacked. But fortunately for MWC attendees like us, the South Korean giant also saved something for this year's event in Barcelona.
Called the
Galaxy A50
and
Galaxy A30
, these two new smartphones kick off an upgraded Galaxy A series that focuses on "the essential features" and which will be expanded over time. Samsung also says it has improved the range's integration with its own ecosystem.
Large Super AMOLED Infinity-U Displays
Over the past year or so consumers have seen the smartphone industry quickly move towards bezel-less displays. Samsung is aware of this and has chosen to embrace the design trend with the Galaxy
A30
and Galaxy
A50
, which are physically identical from the front.

Samsung has equipped the Galaxy A50 with a 25-megapixel selfie snapper whereas the Galaxy A30 makes do with a 16-megapixel alternative. Similarly, there are quite a few camera-related differences over on the rear too. But more on that later.

Looking at the back of these phones, both models feature rear 'Glasstic' panels that are carved out of glossy plastic rather than aluminum or glass, a choice that can presumably be attributed to costs.

As expected, the Galaxy A50 and Galaxy A30 include the typical Samsung logo towards the middle accompanied by a vertical camera setup in the corner. But interestingly enough, the Galaxy A30 also includes a rear-mounted fingerprint scanner whereas the Galaxy A50 doesn't. The reason for this is that Samsung has opted for an optical in-display solution.
Ultra-Wide Cameras Paired With AI Enhancements
Circling back to the rear cameras, it's worth covering each device separately as there are some notable differences.

The Samsung Galaxy A50, on the one hand, sports a primary 25-megapixel rear camera that also boasts an f/1.7 aperture. Essentially, this means that the quality should be decent but nothing too amazing.

This main sensor is paired with an 8-megapixel wide-angle camera, thus giving users the option of capturing more in a single image, and a dedicated 5-megapixel depth sensor which should improve bokeh imagery significantly.

The Samsung Galaxy A30, on the other hand, boasts a main 16-megapixel camera complete with an f/1.7 aperture. Like the Galaxy A50, photos should be decent but, due to the lower resolution, cropping could result in a more noticeable drop in quality.

Once again, this camera is paired with a wide-angle alternative. However, its resolution has been lowered to 5-megapixels. The Galaxy A30 also ditches the dedicated depth sensor entirely.

In both cases, the cameras support a variety of AI-enhancements. The Galaxy A50 also supports bokeh selfies with Selfie Focus, and Bixby Vision which allows you to use the camera to shop online, translate text, or find information.
Big Batteries, Decent Processors, Lots of Storage
For reasons that are unknown, Samsung hasn't specified the exact processors included inside the Galaxy A50 and Galaxy A30. Instead, it has simply detailed the octa-core setups and clock speeds.

Nevertheless, the details described point towards the Exynos 9610 inside the Galaxy A50 and the Exynos 7904 inside the Galaxy A30. The former is comparable to the Snapdragon 660 while the latter can be compared to the Snapdragon 636.

Accompanying these processors will be two configurations. The Galaxy A50 will be sold with a 4/64GB setup or a slightly more impressive 6/128GB configuration. The Galaxy A30, on the other hand, will also be available in a 4/64GB model. However, if this is too expensive a 3/32GB edition will be on sale too.
Completing the setups on both models are 4,000mAh batteries, support for Samsung Pay and Fast Charging, microSD card expansion, and an unspecified version of Android which is presumed to be Android
8.1
Oreo rather than Android 9 Pie.
Release Date, Pricing, and Availability

Samsung hasn't yet announced Galaxy A50 and Galaxy A30 pricing but sales should start sometime next month. As was the case with the Galaxy M series, sales are expected to be limited initially to certain Asian markets such as India before expanding to Europe and other international markets.


The Galaxy A50 will be available to purchase in Black, White, Blue and "Coral inspired by scattered light." The Galaxy A30, on the other hand, loses the latter option. Unfortunately, there's no word on pricing just yet.