Run Win8 Metro Testbed on iPad with Splashtop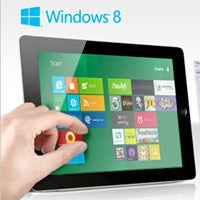 If you're a developer working on apps for Windows 8 Metro you may want to test your creation on an actual gesture-enabled tablet. Splashtop has released a new product entitled Win8 Metro Testbed that allows you to do just that.
Splashtop's Win8 Testbed is "the only app that allows you to experience the Windows 8 Metro UI on an iPad." It works by downloading the Win8 Metro Testbed app to your iPad, downloading and installing the Splashtop Streamer app to your Windows 8 PC, and connecting the two over the network with a security key.
The software costs $49.99, but for a limited time, Splashtop's Win8 Metro Testbed is available in the iTunes App Store for just $24.99. Check out the promotional video below to see it in action. Developers or anyone who want to checkout the Metro interface on their iPad can download it from the App Store
here
.
source:
Splashtop