Report: Apple's iPhone owns 50% of the US smartphone market
66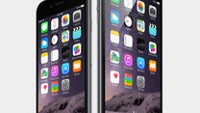 According to a recent report from AppleInsider, a survey conducted by analysts from Canaccord Genuity reveals that the iPhone remains the top-selling smartphone brand at all of the four major carriers in the US. According to their estimates, Apple held a 50% slice of the US smartphone market during the June quarter.
The reputable Apple-centric tech blog claims to have obtained an internal memo discussing the survey. The memo, authored by Canaccord Genuity analyst T. Michael Walkley, claims that Apple's iPhone brand maintained a constant market share in the US smartphone market since the December quarter, and this despite the fact that several high-end Android competitors such as the
Samsung Galaxy S6
series, the
LG G4
, or the
HTC One M9
, have been launched in the meantime.
Walkley also estimates that, since Apple launched the iPhone 6 series back last fall, just 20% of the iPhone user base in the US has upgraded to the iPhone 6 or the iPhone 6 Plus. Accounting all of the iPhone models, the global iPhone user base is forecast to reach about 500 million people by the end of 2015.
It remains to be seen if the upcoming iPhone 6S series will be able to continue on the success that Apple achieved with the iPhone 6 and the iPhone 6S. Expected to be unveiled in September, the two new iPhone models are said to bring several improvements over their predecessors, such as a new
12MP primary camera with RGBW pixels
, a faster processor, more RAM, as well as the new
pressure-sensing Force Touch
technology that Apple debuted on the Watch this past spring.