Bloomberg: Apple iPhone 6S with Force Touch tech to enter volume production as early as next month
99+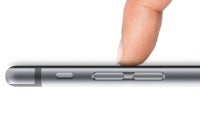 A recent report from Bloomberg suggests that Force Touch, the pressure sensing input technology that Apple debuted earlier this year on its MacBook lineup, will make an appearance on the 2015 iPhone models. Numerous
previous
rumors
hinted at this possibility
, but Bloomberg's report certainly lends further credibility to the notion.
First implemented in the 2015 Apple Macbook, Force Touch is the brand name that Apple uses to describe a technology designed to recognize various pressure levels. Basically, the technology works very well to differentiate a tap from a touch.
If this rumor turns out to be accurate, Force Touch will face a maturity test of sorts on the iPhone. On the limited screen real estate of the Apple Watch, the first device to integrate Force Touch under the display, the pressure sensor adds a new input dimension. On smartphones, however, it remains to be seen if the technology will work much better than the simple but effective long tap. Allegedly, Apple has been working on pressure-sensitive displays for more than two years now.
Aside from the new pressure-sensing ability, the report suggests that this year's iPhone models will not be very different compared to the iPhone 6 series. Quoting the usual "people familiar with the matter", the report claims that this year's iPhone models will be true S versions of
iPhone 6
and
iPhone 6 Plus
, borrowing both their display size and their looks.
Although Apple will avoid
some
bottlenecks due to the similarity between the iPhone 6 and the iPhone 6S series, sources quoted by the report mention that the production schedule could be impacted by the yield of Force Touch enabled display panels. Allegedly, volume manufacturing is scheduled to start as soon as next month.
Recommended Stories