PowerPad 16 charges sixteen iPads simultaneously, doesn't break a sweat
3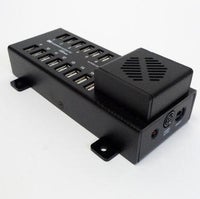 Although the gizmo that you see in the images slightly reminds us of a ghost trap from that famous 80's movie, it serves a much more basic purpose. It is called
the PowerPad 16
– a creation of Datamation Systems, and it is used for charging USB devices.
However, what makes it special is that it can charge 16 of them simultaneously. In fact,
it will easily handle 16 iPad tablets
at the same time even though each one of them requires 2.1 amps of current for optimum charging. In comparison, the standard USB2.0 port on your computer provides no more than half an amp and the average smartphone charger is rated at one amp at best.
Of course, unless you are a über geek, you probably don't need one of these. The PowerPad 16 is intended for industrial use, like in retail stores, large scale expositions, traveling labs,
LeBron James' outlets
, and the likes. If your household has a bunch of USB devices that need regular charging, however, such as more than a few smartphones, tablets, e-readers, or portable media players, having one might come in handy. Just keep in mind that we don't really know how much a unit retails for, and something tells us that it won't come cheap.