LeBron James opens his own retail store, stuffs it with 45 iPads to sell you shoes
15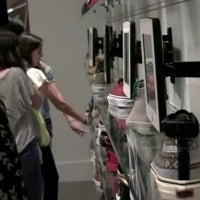 LeBron James finally returned to our TVs this Christmas as the NBA season finally kicked-off after a long couple of months of lockout, but the Miami Heat superstar is not only involved in playing basketball. James opened his own retail store Unknwn to sell us shoes and clothing. The focus? Welll, little surprise here - sneakers. But what's really surprising is the way James markets those - with
45 iPads
in the store.
All those iPads are mounted on a single wall, and there's probably as many of them as there are sneakers.
But why, you might wonder. Well, the idea is to give customers the option to interact, get clothing suggestions and pricing. What seems weird, though, is the sheer number - 45 seems to be a bit of an overkill, don't you think?
The store has opened doors down in Miami, but you can sneak a peek right here in the video below and let us know what you think about the tablet-dominated store.