Pops for Android makes notifications cool with jazzy animations and music
5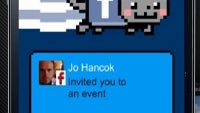 Pops for Android
has popped up on the Android Market and it promises to make your boring Android notifications cool again. Who said they were boring? Pops did. Well, they are not the most visually exciting experience, we'd admit that, but they're useful. Pops on the other hand makes them fun while trying to preserve the usefulness.
First, let's mention that the app is free on the Market and brings a number of packages including music and some kind of animation together, which you can assign to
SMS, emails, Facebook, Twitter messages
and other notifications. It only works when your device is on standby, though, which actually makes sense.
Then, when you receive a message your phone screen lights up and music starts playing to liven you up. Hopefully, the message you've received matches that cheerful mood.
In a world where mobile notifications became a major part of our life, we found that there is no way to customize, enrich and modify the way we receive notifications. From our research we found out that an average smartphone user receives about 1,000 alerts a month – teens and other highly connected users receive more than 2,500 notifications a month. Pops is the ringtones for the smartphone generation – the generation that not only want its smartphone to be smart – but also fun and personalized, Pops said.
The best thing? You can
add your own videos
, which will play whenever you get a new message. For customization addicts, that's definitely a welcome addition. For the rest - just check out the video below to make up your mind.