Poll results: Would you prefer an HTC One (M8) running Android, or Windows Phone 8.1?
80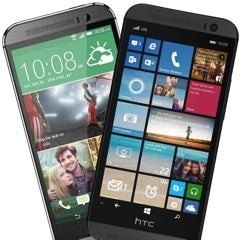 Almost five months after releasing the Android-based
One (M8)
, HTC is seemingly getting ready to introduce a Windows Phone version of the handset. Allegedly called
HTC One (M8) for Windows
, the smartphone could be announced on August 19, and Verizon might be the first carrier to offer it. Apart from running Windows Phone 8.1, the new handset doesn't seem to be too different from the Android model, having a similar design, and probably similar hardware specs, too.
Not long after we saw the first render showing the One (M8) for Windows, we
ran a poll
asking you to choose between it and the One (M8) that runs Android. The exact question was: which of the two HTC smartphones do you think is better? We're not sure how this happened, but the Windows Phone version received 3,156 votes (54.98%), while the Android variant only got 2,584 votes (45.02%). So it looks like a lot of people really like the idea of a Microsoft-endorsed M8. Of course, this doesn't necessarily mean that the Windows Phone variant will be more popular, sales-wise, than the Android model.
You can see the HTC One (M8) for Windows below, alongside an image that compares it to the Android-based version.