Poll results: What do you think about a Blue Coral hue of the Note 7?
9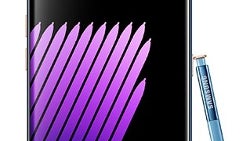 Apart from the Black Onyx, Titanium Silver, and the inevitable golden version of the
Note 7
, there may be one intriguing new color scheme, tip a lot of rumors and alleged leaked images of the phablet - Blue Coral. The kicker this year, besides the jolly-looking new hue, is that the almighty S Pen will seemingly also be color-coordinated with whatever color of the chassis you choose. At least the stem will be, while at the top the stylus will apparently be primed in the same hue as the brushed metal sides, for the ultimate in color cohesions.
That is why we asked you last week what do you make of the brand new color scheme, and whether you like what you see. The Blue Coral edition of the Note 7 is expected to have its glass body painted in this color both at the front and the back, and most of our respondents took it to heart, with just a fifth of you responding negatively to the eventual new Note 7 hue.