PayPal retires the ability to send money via BBM, effective immediately
33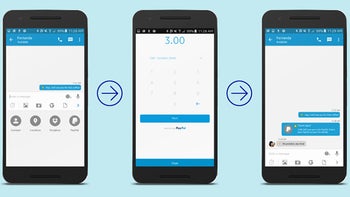 PayPal made
quite a few announcements
in the past concerning the integration of its service into many popular chat apps like Messenger and Skype. One of the apps that allowed users to send money via PayPal was BBM (BlackBerry Messenger), but that's not the case any longer.
The option disappeared from the newest
BBM beta builds
without any explanation, so people thought it must be just a bug that BlackBerry would address it in the final version. Unfortunately, PayPal came forward with an official statement that sheds light on the matter.
PayPal is always evolving our customer experiences to ensure we are delivering to you the best products and solutions. As a result of our research, we've decided to discontinue the ability to send money with PayPal using Blackberry Messenger (BBM), starting February 6, 2018. Thank you for using this service. There are still many ways to easily exchange money between friends and family with PayPal, including through the PayPal app on iOS and Android, mobile web, PayPal.me, Facebook Messenger, Skype and more.
If you're using BBM, you might have noticed that the latest version that's been
released a few days ago
is missing the ability to send money via PayPal. Well, this option will not make a comeback according to PayPal, as the company probably wants to focus its resources elsewhere.