OnePlus 3 vs OnePlus 2 vs HTC 10: a quick specs comparison
2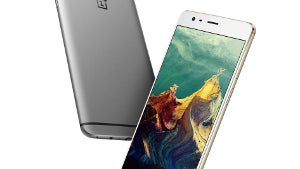 The 6GB OnePlus 3 is finally official! After loads of leaks and rumors, the device is the latest to join the ranks of 2016's finest. Indeed, with a Snapdragon 820 chipset and that much operational memory on board, it's obvious that the OnePlus 3 is a powerhouse that could potentially rival all high-end phones released so far this year.
But how does it stack up against last year's OnePlus 2, its predecessor? Needless to say, the specs are beyond beefed up. In case you're sporting a OnePlus 2 in your pockets and are contemplating whether to buy the OnePlus 3 or not, we will try to be as helpful as possible by providing a neat specs comparison that will show what's been upgraded, exactly.
As usual, we through another neat device inside our specs comparisons for good measure. This time around, we decided that comparing the OnePlus 3 with the HTC 10 will be more than fitting. Here's how the trio measures up.
IPS LCD
S-LCD 5
Super AMOLED
Scratch-resistant glass, Ambient light sensor, Proximity sensor
Scratch-resistant glass, Ambient light sensor, Proximity sensor
Scratch-resistant glass, Ambient light sensor, Proximity sensor
Qualcomm Snapdragon 810 MSM8994
Qualcomm Snapdragon 820 MSM8996
Qualcomm Snapdragon 820 MSM8996
Octa-core, 1800 MHz, ARM Cortex-A57 and ARM Cortex-A53, 64-bit
Quad-core, 2200 MHz, Kryo, 64-bit
Quad-core, 2200 MHz, Kryo, 64-bit
Adreno 430
Adreno 530
Adreno 530
Android (6.0 Marshmallow, 5.1 Lollipop), OnePlus OxygenOS UI
Android (8.0 Oreo, 7.0 Nougat, 6.0 Marshmallow), HTC Sense UI
Android (9.0 Pie, 7.0 Nougat, 6.0 Marshmallow), OnePlus OxygenOS UI
Qualcomm Quick Charge 3.0
OnePlus Dash Charge
27.00 hours
the

average

is 0 h (0 min)
19.0 days (456 hours)
the

average

is 0 days (0 h)
19.0 days (456 hours)
the

average

is 20 days (472 h)
Single camera
Single camera
Single camera
13 MP (OIS, Laser autofocus)
12 MP (OIS, Laser autofocus, BSI sensor)
Aperture size: F2.0; Sensor size: 1/2.6"; Pixel size: 1.3 μm
Aperture size: F1.8; Focal length: 26 mm; Sensor size: 1/2.3"; Pixel size: 1.55 μm
Aperture size: F2.0; Pixel size: 1.12 μm
3840x2160 (4K UHD), 1920x1080 (Full HD), 1280x720 (HD) (120 fps)
3840x2160 (4K UHD), 1280x720 (HD) (120 fps)
3840x2160 (4K UHD) (30 fps), 1920x1080 (Full HD) (60 fps), 1280x720 (HD) (120 fps)
Time-lapse video, Video calling, Video sharing
Time-lapse video, Hyperlapse, Picture-taking during video recording, Video calling, Video sharing
Video calling
5 MP
5 MP
8 MP
1920x1080 (Full HD)
1920x1080 (Full HD) (30 fps)
5.98 x 2.95 x 0.39 inches (151.8 x 74.9 x 9.85 mm)
5.74 x 2.83 x 0.35 inches (145.9 x 71.9. x 9 mm)
6.01 x 2.94 x 0.29 inches (152.7 x 74.7 x 7.35 mm)
6.17 oz (175.0 g)
the

average

is 6 oz (172 g)
5.68 oz (161.0 g)
the

average

is 6 oz (172 g)
5.57 oz (158.0 g)
the

average

is 6 oz (172 g)
Frame: Aluminum
Back: Aluminum
Back: Aluminum
Fingerprint (touch)
Fingerprint (touch)
Fingerprint (touch)
Interchangeable covers, Notification light
Touch sensitive control keys
Notification light