OLPC XO 3.0 kid's tablet runs miles for $100
1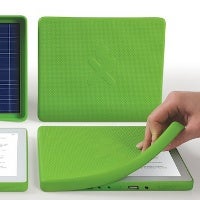 The
One Laptop Per Child
(OLPC) foundation has long tried to bring very affordable and functional computing to kids, but the OLPC XO 3.0 tablet is probably the first product to really make good on that attempt. The 8-inch slate is not only a budget offering at $100 - it also promises smooth operations.
Just like any tablet designed for kids, the
OLPC XO 3.0
is bound to take a beating, so it's very durable. The tradeoff is some heft and not the slimmest tablet profile out there. The tablet also has a waterproof rubberized back and a waterproof cover is also available protecting the XO 3.0's ports and display, but you'd still better watch out for this to not end up in a full bathtub.
Now,
spec-wise don't expect wonders
- there's a Marvell Armada PXA618 chip under the hood, 512MB of RAM and 4 gigs internal storage. When it comes to ports, though, the XO 3.0 is well equipped - standard USB, microUSB, audio in/out, sensor input are all present.
On the
software
side, the tablet is expected to come with either Android or OLPC's own Sugar mobile operating system, and in either case you should expect plenty of educational and fun apps for children.
Finally, the OLPC will be judged by its price, but we shouldn't also overlook the fact that it fulfills a noble goal - bring affordable computing to those who don't have access to it, but still need it. It's no iPad, but often - that's not even needed, don't you think?