Newest Samsung Gear VR available starting today in the US
16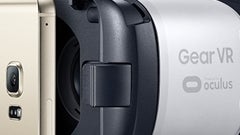 Officially announced in September,
Samsung's newest Gear VR
(designed and manufactured in collaboration with Oculus) is now available to buy in the US, being the company's first virtual reality headset made for consumers.
Unlike previous Gear VR models, the new one has an accessible price: you can get it for $99.99 online (free shipping included), directly from Samsung - check out the first source below.
The Gear VR also shows up at Amazon and Best Buy, though, at the moment, none of them have it in stock. In any case, if you want the accessory, make sure that what you're buying isn't an "Innovator Edition" of it, since this would mean that you're not getting the latest model.
Right now, the new Gear VR can be used only with a handful of high-end Samsung smartphones: Galaxy Note 5, Galaxy S6 edge+, Galaxy S6 edge, and Galaxy S6. These can connect to the Gear VR via microUSB once you place them inside the headset, allowing you to enjoy 360-deegree games, movies, videos, apps, and other similar content.
So, is anyone planning to buy the Samsung Gear VR?
sources:
Samsung
,
Amazon
,
Best Buy