New web site layout coming to Verizon Wireless
1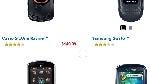 PhoneArena is not alone in changing our web site layout, as it appears Verizon Wireless will also be changing their site a bit too. The new design will allow you to have a drop-down list of phone categories, such as Smartphones, Multimedia phones, Feature phones, 3G internet, Netbooks, and even one for 4G Internet. As well as drop-downs for selecting the OS, style, color, features, and price. For viewing the phones, there will be a grid, gallery, and list view, and they can be sorted by featured, newest, ratings and price. If you're not sure which phone you want to buy, you can drag up to 5 devices to the white blocks on the top for an easy comparison. Overall it looks like a nice design and hopefully it will be activated soon.
You may also notice that in the images below the
Pantech Crux
,
LG Octane
,
Motorola DROID PRO
, and
Samsung Fascinate
Prepaid are listed, but those are just placeholders as the info for them is blank.