New on Kickstarter, the FlipSide, an iPhone game controller case
2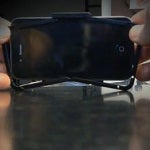 Fresh on the crowd-funding scene we have a solar powered, Bluetooth 4.0 game controller built as an iPhone case. This design looks to be something completely different from what other game controllers have looked like in the past.
Unlike a lot of
other start-up projects attempting
to make accessories that work with Apple products, this project, being facilitated by iDevices, has direct support from Apple, so much so that Apple has devoted resources to ensure that the controller works perfectly with the iPhone. The controller-case is the brainchild of Justice Frangipane which he started as a concept he dubbed the "FlipSide."
The FlipSide is in the prototype phase now, and will be thin, have the ability to trickle charge via solar panels, and mountable control pads. What is also cool about the case is that the power is being provided by a very efficient power-cell developed by Infinite Power Solutions. The final product will work with the iPhone 4S, iPhone 5 and have compatibility with the New iPad and iPad mini.
Check out the videos below and learn about this case in development. Folks that are willing to get in on the ground floor can pick one up for only $60, and it is a limited edition case to boot. They will ship internationally too.
sources:
iDevices
(Kickstarter) via
TechCrunch