New PhoneArena Features
2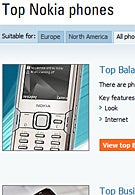 Hello PhoneArena readers,
We are happy to announce a set of new features that will grant you even more functionality. The first one is called
Top Phones
and it is meant to provide you with information about the phones we think are the best that each manufacturer/carrier has to offer. They are divided into seven categories, including Balanced, Business, Multimedia, Camera, Stylish, QWERTY and Budget. To access the feature, you simply have to click on the desired manufacturer/carrier and head to the Top Phones in the upper right corner bellow the company's logo. This will bring you to the category listing where you can view the specific group. Every device has a number pointing where does it stand in comparison with the others from the specified listing.
User Review
system. It is still accessed the same way (by clicking Reviews from the phone's specifications), but now you have the option to insert images, some font formatting options and two new fields for entering Pros and Cons.
We have added an
e-mail subscription system
for articles, reviews, phones, carriers and manufacturers. It is used quite easily, all you have to do is select the
subscribe
button at the bottom of review or article and a pop-up screen will appear. Then you have to select which of the topics (tags) you are interested in and will only receive notifications for articles/reviews that contain them. If you click on subscribe from a manufacturer or carrier page you will only receive e-mail when new devices are added.
view another user's profile
by clicking on his/hers name in the comment pages. The information shown includes the person's location, carrier, mobile phone's, favorite phones and latest comments.
We hope you enjoy the new features and extended functionality! Your comments are welcome, as always.