New 7mm-thin HTC One (M9) concept proposes a Quad HD sapphire display, 12 MP Duo camera
82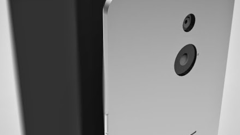 The
HTC One (M8)
is now six months old, which means it's getting a bit old (because that's how the fast-paced mobile industry works). But HTC is certainly developing a successor to the M8, which may, or may not be called One (M9).
Of course, HTC hasn't confirmed anything about this, but we heard that
an M9, and even an M9 Prime
could be released in early 2015. Until - and if - that happens, allow us to introduce you to a new - as opposed to
the old ones
- HTC (M9) concept design that might not be too different from a real HTC-made device.
Designed by Fabrizio D'Onofrio, this new HTC (M9) concept proposes a 7mm-thin body made with aluminum and titanium. The imaginary handset is obviously a high-end one that brings improvements over HTC's current flagship. Its display should be a 1440 x 2560 pixels (Quad HD) sapphire crystal one. Other features: BoomSound+ speakers, 5.1 MP front-facing camera, 12 MP Duo rear camera with Optical Image Stabilization, Qualcomm's new 64-bit Snapdragon 810 processor, 3 GB of RAM, and a 3500 mAh battery. Storage space varies from 32 GB to 128 GB.
What do you think? Would this make a great HTC smartphone or not?