Motorola's injunction againt Apple important, but also not likely to last
99+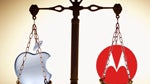 After a German court awarded Motorola a preliminary injunction against Apple, there was a lot of speculation on how big of an impact it would be on the consumers, and how likely the injunction was to stand. German legal professionals have now weighed in, communicating with Florian Mueller of FOSS Patents.
Mueller reports that legal experts made it clear that the preliminary injunction against Apple Inc. is a very serious ruling. While the injunction is not specifically against the German subsidiary of Apple, allowing current stock to sell through, Apple would violate the injunction if they were to ship any more stock into Germany. Since retailers are
selling out their stock of iOS devices
on a regular basis, this would quickly impact the ability of Apple to sell products to German customers.
Luckily for Apple the same legal experts think it's more likely than not that Apple will be able to win a temporary suspension of the injunction, which would allow them to continue importing Apple products into the country until a final verdict is reached. In the mean time, two more Motorola-Apple trials have been scheduled, including some that target "other Apple entities". According to Mueller, it's difficult to know ahead of time what the most likely outcome is, but Apple's legal strategy now entails greater risk then it did before.
source:
Foss Patents
via
Apple Insider