iPhone 4S demand continues to outstrip supply
43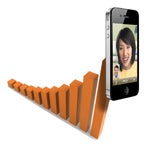 Apple stores continue to sell out their stock of the
iPhone 4S
on a daily basis, according to a recent poll conducted by Clay Whitmore of Deutsche Bank. The survey of 30 Apple retail locations showed that 85-90% of the retail locations burn through their inventory each day. According to Whitmore, Apple employees have been routinely instructing customers to reserve phones online after selling out their in-store supply.
Whitmore feels that supply is the only limiting factor on how many of the new iPhones Apple can sell this quarter. He had originally forecast global sales of 28 million iPhones during the upcoming holiday season, but now feels this is an "increasingly conservative" estimate.
It should be noted that this survey only examined inventory sales at Apple retail locations, not sales in stores of wireless carriers, although early reports by carriers suggest
record-breaking sales numbers
. Another factor that may constrain supply of Apple's new flagship handset is the heavily front-loaded global sales rollout; the iPhone 4S launched in seven countries at the same time, and expanded to 22 additional countries on October 28th, which is the fastest global launch of an iPhone model to date.
We won't fully know how this will impact local availability until Apple reports this quarter's numbers, but clearly they are selling extremely well.
source:
Apple Insider