Motorola scraps Moto Maker tonight, moves sale to December 4th and 9th
9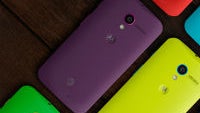 It has been a trying day for Motorola. The plan had been to offer $150 off the full retail pricing for the Moto X, including the Moto Maker customization, starting at 9AM EST today. That never happened because the
early traffic
hitting the site caused server issues for Motorola. Now, the company is detailing its backup plan in case it can't get the problems fixed by 9:30PM EST tonight.
That gives Motorola about another 30 minutes before its self-imposed deadline. If it can't get the Moto Maker site back up and running by then, it has promised to double the supplies set aside for the deal, and run the deal two times. Motorola has scheduled the backup sale dates for noon EST on Wednesday December 4th, and again on Monday December 9th.
We'll keep an eye out, and update this article at 9:30PM EST with the final outcome of the sale. But, we're losing hope that Motorola will make its own deadline, so it may be a couple days before you can order your customized Moto X.
*Update* 9:30PM EST has come and gone and Moto Maker is still not working, so it looks like the Moto X sale will officially be scrapped for today and be held on December 4th and 9th.