Motorola MILESTONE to get Android 2.1 within the next two months?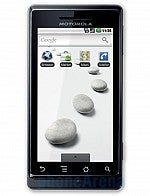 With the Motorola DROID receiving its update to Android 2.0.1 a couple of weeks ago, and with an Android 2.1 update
coming soon
, you might be wondering about its European cousin, the Motorola MILESTONE. According the to Motorola Europe Facebook page, the
MILESTONE
will receive its update to 2.0.1 very soon, and then will get the
2.1 treatment in the next two months
. Furthermore, the Motorola DEXT will also get 2.1, though no time-line has been given just yet. Currently, the Google Nexus One is the only device shipping with the Android 2.1 OS.
Motorola MILESTONE Review
|
Specifications
Motorola DROID Review
|
Specifications
Motorola DEXT Specifications
Hands-on with the Google Nexus One
source:
Facebook
via
Engadget