Hands on with the Nexus One
10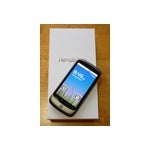 After
years
of
speculation
, last week the rumors came true and the Google Phone was announced, officially known as the
Nexus One
. The device is heavy on specs with the 3.7" AMOLED display immediately stealing our hearts. As always, what really counts is brains and the Nexus One's 1GHz Snapdragon processor is what really sets this device apart. Other important points of interest are a 5 megapixel autofocus camera with flash and the Android 2.1 operating system. There are other phones with similar specs - the Droid also has a 3.7" display and runs on Android 2.0.1, the Moment has an AMOLED screen and 800MHz processor and the Hero/Droid Eris both have 5 megapixel camera - so what makes this phone so special? Well first off is that it will be sold exclusively through Google, though carrier subsidies will be available to new and qualifying customers.
So what about the device itself? What first strikes you is the enormous screen on such a thin device; the Nexus One measures just 11.5mm thin and the 3.7" display dominates the front. It is similar in feel to the iPhone, but the combination of wide and thin, combined with the plastic casing, makes it slipperier than we'd prefer. It is also top-heavy which only adds to the phone's propensity to jump out of your hand. The basic design is very similar to Sprint's Hero, which our normal-sized hands prefer in terms of feel.
Powering the device on quickly made us forget about the awkward feel. The AMOLED display is the best we've encountered, and some of the Live Wallpapers actually introduce depth to the interface (think 3D, but it doesn't move with you). This thing is blazing fast, noticeably more so than the Droid. The 1GHz processor is really felt and it flies through the new 3D animations. Android 2.1 is a nice upgrade from 2.0, but nothing groundbreaking. We do find ourselves missing HTC's Sense UI and multitouch implementation in the browser. The Google Phone looks to be a lock for best Android phone to date, but does it have enough to take on the mighty iPhone?
Check back soon for our full review to find out!
HTC Nexus One Specifications