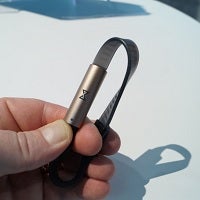 Within a few months of releasing the popular Shine 2 activity tracker, then being acquired by renowned watchmaker Fossil, MisFit attracted the eyes of many with an elegant new fitness bracelet called Ray.
Like the rest of the MisFit line-up of activity tracking wearables, the Ray never needs recharging, instead running for months on a user replaceable batteries. Its companion iOS or Android app lets you monitor steps taken, calories burned, distance, along with sleep quality and duration.
This long cylinder made of anodized aluminum will be available in two colors, carbon black and rose gold. Like its Shine 2 cousin, the Ray also provides discreet notifications about incoming calls, SMS, alarms, and movement reminders. The MisFit Link app will integrate with IFTTT, and you can program LED colors for specific notifications.
Functionally, the MisFit Ray is identical to the Shine 2, but the Ray is far nicer looking. The three 393-button-cell batteries last up to six months, meaning you can wear it continuously. It looks like an elegant decoration, like an everyday wearable bracelet (or necklace if you get the paracord to wear like a necklace).
The MisFit Ray is available for pre-order now for $99. Shipments will begin in the second quarter of this year, and sales will continue online and through a variety of brick-and-mortar retailers.
MisFit Ray hands-on