Microsoft's new Surface Pro 2 ad brings out Super Bowl champion quarterback Russell Wilson
8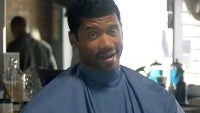 Honestly (see what we did there?), we are not 100% convinced that Sara Bareilles'
Brave
has the needed staying power to advance the Microsoft's, and thus Surface's, ad campaign much further past the six months or so it has been going so far.
That said, the ads themselves are very effective about showing off one or two key features without going overboard. In this case, it is OneNote and Skype.
Microsoft OneNote, particularly on a stylus enabled tablet like the Surface Pro 2, is one of the most versatile applications ever developed. It is like a blend between Word, Excel, audio and video recorder, and photo editor. Searching across notebooks is easy, and the search feature has handwriting recognition. OneNote is easy to organize and when used with a stylus, it is like having an endless sheet of paper to babble your thoughts to.
What can be said about Skype that we do not already know? Skype is gaining more and more incorporation with Windows, and it works in the traditional desktop fashion, or with the new modern app optimized for touch.
Celebrity endorsements usually bring a lot of visibility to a product. It also helps that the Super Bowl champion Seattle Seahawks are in Microsoft's back yard too.