Microsoft leaning towards Ford Motors' CEO to replace Ballmer, Stephen Elop no longer in the running
19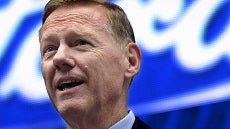 Not surprisingly, Microsoft might bet on an outsider to run one of the richest tech companies in the world, with Bloomberg reporting that the executive board leans towards poaching Ford Motor's CEO Alan Mulally, who did wonders with the car and truck maker, never needing a government bailout.
From the internal candidates, the current executive vice president of Microsoft's Cloud and Enterprise group, Satya Nadella, is preferred over other Microsoft candidates, says the publication, and Stephen Elop seems to no longer be in the running. We wouldn't worry too much about Mr Elop, what with
the many millions he got for bringing Nokia right into the arms of Microsoft
, and securing one of the best hardware makers in the smartphone industry for less than what Redmond paid to acquire Skype.
Whether or not Microsoft will take the huge gamble of bringing an outsider to the tech giant, and put Surface infotainment systems in the dashboard of our F-150s, remains to be seen.