CEO Stephen Elop to Nokia: I'm getting a divorce, so I need all of the $25 million
59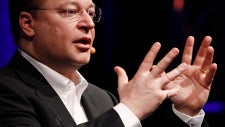 In light of Nokia's CEO Stephen Elop exorbitant for the Finish phsyche
"golden parachute" compensation of $25 million
, a local newspaper did some digging in the SEC disclosures about the
Microsoft-Nokia deal
, and found out that Elop was given special clauses in his contract that were unavailable to the previous, Finnish CEO.
Nokia's board chair Siilasmaa claimed on Friday that Nokia's American CEO wasn't getting a deal the Finnish ones wouldn't given the circumstances. It turns out, however, that Mr Elop actually got an US-style contract, with "accelerated vesting" of his share options if "change of control" occurs, and a nice golden parachute to land him if someone buys the company or a part of it - all normal for the CEO-heavy US business climate, but an abomination abroad.
Thus, if the CEO managed to cheapen the company's shares and someone scooped it up, he or she would have walked with the aforementioned many millions, and this has been in Elop's contract from the beginning. Yesterday the board chair admitted the discrepancy and said Nokia's legal team had "
a working place accident
" for not noticing it earlier.
Long story short, that's exactly what happened with Nokia in the span of just three years, confirming once again that whichever company has had similar dealings with Microsoft usually ends up on the losing side, and, just like a few analysts were warning, this might have been Ballmer's plan all along. Heck, the company
paid more for Skype
than it did for Nokia, after all - $7.5 billion is a far cry from the $19 billion bandied about when
the first reports that Microsoft will acquire Nokia's smartphone division
surfaced.
As for CEO Stephen Elop, the Finnish newspaper that came up with the investigation, cites unnamed sources that confirm the board asked him to reconsider his golden parachute package of $25 million, in light of all the negative press pouring on the deal because of that. He, however, said that he's in the process of getting a divorce, and his wife's lawyers wouldn't let him turn down a cent of the package. Sounds like a plan - moreover, 70% of that compensation will come from the new owner Microsoft, so resistance seems futile.