Memo reveals the departure of a senior Sprint executive
2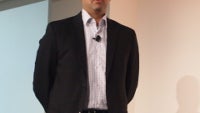 Fared Adib, a 12 year veteran at Sprint, has apparently turned in his walking papers according to an internal memo obtained by Reuters. Adib completed his last assignment, which was to establish a new "buying entity". Adib started with Sprint back in 2002 and by 2008 he was named senior vice president of product development and operations.
Under Adib's leadership, the nation's third largest carrier launched such high profile devices for the operator like the Apple iPhone,
HTC EVO 4G
, and Sprint's initial lineup of 4G LTE compatible phones. The memo states that David Owens, who is an executive in Sprint's product development unit, will replace Adib.
Last year, Japanese telecom firm
SoftBank purchased 78% of Sprint for $21.6 billion
. After the deal closed, a number of Sprint executives left the company including its chief sales officer. The carrier's CMO also retired.
SoftBank Chairman Masayoshi Son and Sprint CEO Dan Hesse recently visited U.S. regulators to see how they would react to a possible Sprint bid for T-Mobile.
The FCC and the FTC have both indicated a wariness about the proposed deal
that hasn't necessarily cooled Son's desire to make a bid for the nation's fourth largest carrier.
source:
Reuters