Sprint regroups, reconsiders bid for T-Mobile in light of U.S. regulators' wariness
19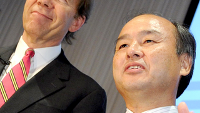 Sprint Chairman Masayoshi Son and CEO Dan Hesse have had two unsatisfactory meetings
with the DOJ
and
the FCC
. Both regulators tried to throw cold water on the idea of merging the nation's third and fourth largest carriers. Some believe that T-Mobile has been so innovative that the FCC and FTC want to give the carrier some more time to see how this all plays out.
A published report Sunday evening states that both Son and Hesse were surprised at the regulators' distaste for the deal, although the SoftBank founder is still considering going ahead with it anyway. The argument that Son and Hesse are making is that the only way to challenge Verizon and AT&T, the top two mobile operators in the U.S., is to allow Sprint and T-Mobile to combine. The nation's top two carriers own 67% of the wireless market in the states, and there are those who believe that T-Mobile's recent momentum will eventually fade.
The regulators have also taken their case to the public, something unexpected by SoftBank and Sprint. Bill Baer, head of the Justice Department's Antitrust Division, spoke with the
New York Times
and even mentioned his distrust of wireless consolidation in a speech before the New York Bar Association. Both SoftBank and Sprint will report earnings this week, giving both companies a chance to reveal any new plans.
Sprint CEO Dan Hesse might know exactly how the naysayers feel. When
AT&T made its failed $39 billion bid for T-Mobile
back in 2011, Hesse was one of the most outspoken critics against the deal. Now, three years later, in a much different landscape for the mobile carriers, Hesse finds himself on the other side of the transaction.
For Masayoshi Son, pulling out of the deal before it is announced means not having to worry about paying a break-up free to T-Mobile that Sprint cannot afford. Son has been concerned with the fee, which would only be paid if both sides commit to a deal and one of them decides to pull out of the transaction. When AT&T decided against challenging the Justice Department and pulled out of the deal with T-Mobile,
the latter received $3 billion in cash and some very strategic spectrum from AT&T
.
source:
WSJ