MWC 2013 Day 1: round-up
8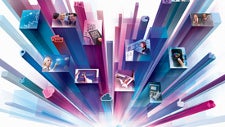 Wow, Mobile World Congress really heated up today with a boom of new devices getting unveiled from all sorts of places. We started the day with a bunch of colorful new Nokia Lumia Windows Phone 8 smartphones and ended it with the first device with Qualcomm's most capable Snapdragon 800 processor.
We didn't get to see Nokia's rumored EOS, a Windows Phone with a 808-like PureView camera capabilities, but Nokia's chief executive Stephen Elop did stress a couple of times there is more to come in 2013. Among the Nokia launches, we should say that the Lumia 720 is the phone with the widest aperture we've ever seen - and that means a lot for low-light photography.
Asus also kept us entertained with their own tech illusionist and the always cheerful stage-loving Jonney Shih with his funny English. Asus brought a brand new Padfone, a phone that docks into a tablet station, and unveiled an Intel-based 7-inch tablet that has phone functions.
And of course we saw more Firefox OS phones, an endless ocean of Android devices, and all sorts of stuff. If you don't want to feel like you missed out, take a look below - we've rounded them all up here.
Nokia

Asus

ZTE

LG

Sony

HP

Firefox OS
Recommended Stories