Nokia 105 hands-on
18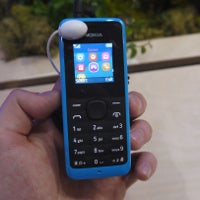 The
Nokia 105
is a pretty mind-boggling device. You might think an ultra affordable $20 phone is not important, but Nokia enlightened us that it shipped 100 million of its similarly cheap Nokia 1280. Now, it has its successor in the Nokia 105.
The 105 is a lot about the price and economy, but it is also about an impressive battery life. 35 days on standby would put any smartphone to shame. And it has got a flashlight, of course.
The Nokia 105 comes in the now typical for the Finns cyan and black. It is also built to last - durable and with a rubbery splash-proof keypad. The keys are big and easy to press, and overall it feels sturdy. It is a bit thick, though, accommodating for that fairly large battery. It charges via the popular but proprietary 2.0mm Nokia port.
The small, 1.45" color display gets fairly bright so you won't have a problem seeing it in direct sunlight. The interface is very simplistic, made for just phone calls and basic texting. There is no web browser, and if you are looking for extras the only thing it's got is an FM Radio.
We'll easily take that at 15 euros. The Nokia 105 will be available very soon in the first quarter in China, India, Russia, The Middle East, Asia Pacific and Europe.