Asus Padfone Infinity hands-on
6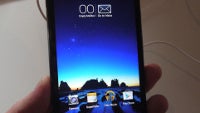 The
Asus Padfone Infinity
is one of the most exciting devices we saw at Mobile World Congress 2013 - a combination of a phone and a tablet, a 5-inch 1080p 4G LTE smartphone that docks into a 10.1 tablet station with an impressive 1,920 x 1,200-pixel resolution.
The Padfone Infinity has got that premium vibe all over - starting with its sleek, aircraft-grade aluminum alloy body with brushed metal finish, and ending with an equally premium $1,300+ (999 euro) price. Despite the size and presence of premium materials used in its construction, the phone feels surprisingly light in the hand.
So, what do you get for over a grand? Well, just as most other recently announced high-end devices, the Padfone Infinity packs a quad-core 1.7GHz
Qualcomm Snapdragon 600
processor with Adreno 320 graphics and 2GB of RAM. The tablet station doesn't have its own processor and instead relies on the phone (that's the whole PadFone concept). At a glance, the performance of the device is nothing short of excellent, which is more than expected given all that raw processing power it packs.
The docking happens easily - you just slide the phone into the slot on the tablet. A slight pause and the 10-inch gorgeous tablet station screen lights up where you left off on the smartphone. We noticed a slight hint of a lag, but we'd attribute this to this being a pre-release version. One wouldn't want to see lag in such an expensive device.
Designwise, Asus has done a great job at thinning out the two devices. The phone is 8.9mm thick at its thickest, while the station measures 10.7mm thick and weighs 530 grams, which feels fairly lightweight.
Battery life is one of the biggest benefits of the Padfone combo. On its own, the PadFone would be just like any other device with a 2,400mAh non-removable battery. According to Asus, that should be enough juice to deliver 9 hours of continuous video playback or a whopping 19 hours of 3G talk time. Once the handset is docked in the Padfone Infinity Station, its battery life triples as the tablet chassis has a 5,000mAh battery.
The Padfone Infinity combo arrives in 32GB/64GB models, to be available soon for those ready to pay the price.